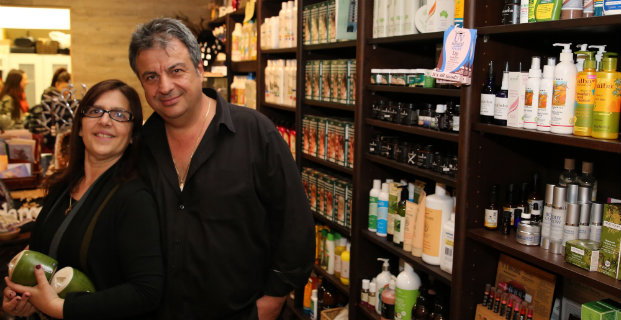 Welcome to Botaniko health + healing; a holistic organic health food centre that specialises in natural products and therapies. Our focus is on love, kindness and wellbeing – of ourselves and of each other. Botaniko is a haven of fresh organic produce, organic groceries, and organic cosmetics & products – along with a range of natural therapies to sooth & heal your mind, body and soul.
Run by husband and wife team Maki and Vicki, their children & staff – the Botaniko team do their best to meet all of your health care needs. Our aim is to provide you with access to an affordable range of organic health products, such as fruits & vegetables, freshly baked organic breads, biodynamic dairy products, and other eco-friendly and natural products for the home and body.
We are passionate in our belief that by embracing a healthier lifestyle based on organic and chemical free food – and when necessary, the correct supplements – we can assist each other to achieve optimum health & vitality. We pride ourselves on our honesty, integrity and providing you with the best quality products and services.
Our range includes:
Fresh fruit and vegetables
Herbs and Spices
Himalayan Salt & Salt Lamps
Cereals & Ancient Grains
Organic Cheese, Dips and Yoghurt
Nuts, Seeds & Dried Fruit
Pasta & Noodles
Chips, Snacks & Health Bars
Oils & Vinegars
Pasta Sauces
Chocolates & Sweets
Organic Raw Sugars & Natural Sweeteners
Organic Drinks
Organic Tea & Coffee
Health Supplements, Vitamins & Minerals
Natural Household & Cleaning Products
Natural Skin, Hair & Dental products
Crystals, stones and jewellery
Baby Products
Angels & Inspirational Quote Woodwork
Please see our products page for more details
We also offer a range of natural therapies including:
Remedial Massage & Sports Massage
Relaxation Massage
Bowen Therapy
Cupping
Hypnotherapy
Allergy and Chemical Hair Analysis
Foot Detox
Neuro-Linguistic Programming (NPL)
Kinesiology
Ear Candling
And much more – please see our Services link
We also offer you a delicious alternative to fast food – The Botaniko Organic Food & Drink menu! Take away or enjoy in the sanctuary of our private courtyard. We offer a range of fresh juices, smoothies, coffee & tea, frappes & iced coffee, salads and sandwiches.
Please explore our website, visit our store or contact us for more information. Our friendly and caring team will do their best to answer all your enquiries and provide you the best products to ensure your optimum health and wellbeing!